Keep Track of Your Score Automatically!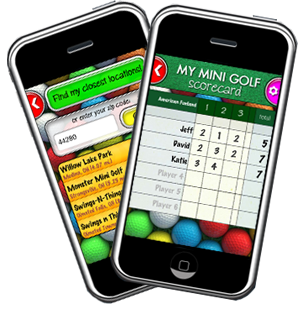 In the past, there's always been one unlucky player who gets picked to keep score for the team. You'll see him or her fumble trying to balance a scorecard, pencil, club, and ball all at the same time. When that's all said and done, here's hoping that player was a star in math class!
With My MiniGolf Scorecard, you don't have to worry about carrying one, just focus on getting a hole-in-one! The app automatically tallies scores for up to 6 players, and will even announce the winner at the end of the 18th hole.
Search for Nearby Miniature Golf Locations
Whether you're on vacation or just searching for something different close to home, My MiniGolf Scorecard has got you covered. Our search feature lets you input a zip code or gets your GPS location to find several locations nearby. Businesses that partner with My MiniGolf Scorecard will also offer useful information such as hours and pricing, and even course information with par for each hole!
Share your Achievements with Friends!
You may want the world to know you're a mini golf champion, but chances are few will discover your amazing talents unless you've framed and hung every scorecard in your living room. Save that valuable wall real estate and post your scores to Facebook instead! Once your game is complete, My MiniGolf Scorecard can upload your team's scores directly to your Timeline for all your friends to see (in the comfort of their living room, no less).